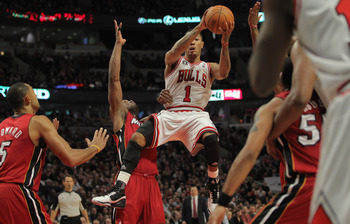 I'm a Bulls fan of course. Only makes sense because I'm from Chicago. So I thought I'd celebrate
haha
. They played the Heats and won 93 to 80 something... don't know. don't care. I think it was 89 though so good game. I won't give you all the highlights because I'm not a sports announcer. But that kind of made my day today because they lost the last game versus Toronto I think...
smh
. They need to bounce back! Plus, the Heats need to stop thinking they are the freaking Justice League of something like that. They are not
undefeatable
. Oh and just a
side note
from this post... my other
favorite
teams are the Orlando Magics and the Los Angeles
Lakers
. I like other teams but the
Bulls
, Magic and
Lakers
are my top 3 in that order. The Bulls are definitely going to the playoffs, this is their season!